Celebrated yearly on the 17th of March, St Patrick's Day is an ideal time to get the family together for some Irish themed crafting. Think of rainbows, pots of gold and fresh green shamrocks. So make your own luck with these St Patrick's Day Crafts that are perfect to do with the kids.
1. St. Patrick's Day Wine Bottles

Transform old wine bottles into a cute leprechaun by painting it green and adding a green sparkly bow. It also doubles up as a fun decoration for the day and can be brought out year after year for the occasion.
2. St. Patrick's Day Tiered Tray

3 tiered trays are so much fun and children will love switching out the decorations for each season. Add green decorations to each layer such as shamrocks, green candles and leprechaun mugs for example.
Instructions 3 Tiered St. Patrick's Day Tray
3. St. Patrick's Day Cards

You'll need rainbow paints which are then painted on in blocks to your child's foot to create this magical card.
4. Footprint Art Card

Kids will love seeing a magical rainbow sprouting from their own foot print.
5. Lucky Foot Print Art

Don't forget to get plenty of gold chocolate coins to make a pot of gold or even a leprechaun trap.
6. Hand Print Shamrock
7. Construction Paper Hearts
8. Colorful Handprints
9. Shamrock Canvas Painting

You can use a shamrock stencil for little hands to color in or even free hand your own.
10. Leprechaun Craft

Leprechauns are synonymous with the season so make St. Patrick's proud and make this adorable craft with the kids. It's hard to believe all you need is paper plates and some paint to make this cute leprechaun.
11. St Patrick's day baby feet idea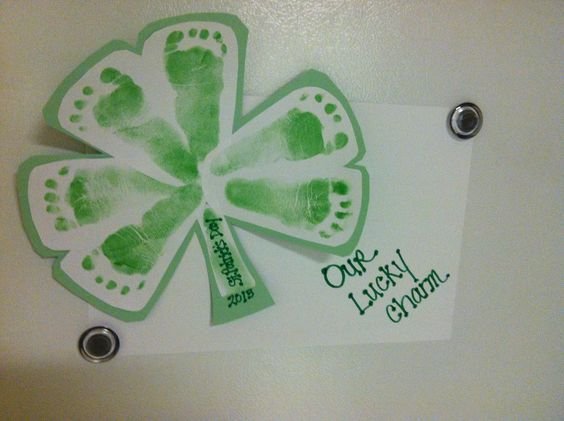 There is nothing cuter than making some lucky prints from your baby's foot print. Simply paint their feet green and print onto a sheet of paper.
12. Rainbow Punch

Kids will love this Rainbow Punch. Make it with Kool-Aid ice cubes and 7-up. Such a fun party idea!
13. Rainbow Pasta

Give kids the most colorful pasta ever by adding food coloring. Just cook the pasta and add 20 drops of food coloring and 2 tbsp of water for each color in ziplock bags. When the pasta is strained, put pasta in each colored bag and then put pasta back in the strainer, run water over it, and serve!
14. Leprechaun Trap

Catch that mischievous leprechaun with this awesome craft. You'll need a green leprechaun hat, skittles, chocolate coins and some other supplies.
Instructions Leprechaun Trap