The festive season is in full swing and everyone is decking their halls with holly. Nothing creates a more cheerful vibe then sprucing your home up with shiny baubles and glittering tinsel with stars.
Get into the holiday spirit with these awe inspiring DIY Christmas Wreaths that will give your door an air of magic.
1. White Yarn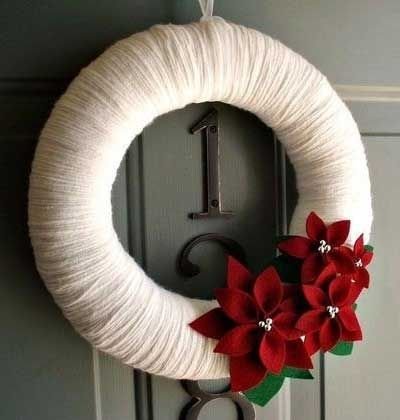 Make this simple but elegant wreath using just white yarn and some poinsettias.
Instructions Make a Yarn Wreath
2. Pine Cones

Make use of those pine cones you've been saving from your backyard and transform them into this amazing and rustics looking wreath. You can paint the tips of your cones white to make them look as if they have just come from a magical winter wonderland forest. In fact you can be as creative as you like and paint them any color of your choosing and even add glitter to make them really sparkle.
Instructions Make a Pine Cone Wreath



3. Joy

This makes a great sign and wreath for your door. Using a vine wreath as your base, hot glue the letters J and Y so that the wreath forms the letter O.
Instructions Make a Joy Wreath




4. Wood Slice Winter Wreath

Hot-glue 3″ birch wood coasters side by side to form a wreath shape. Finish with ribbon for a pop of color.
Instructions Make a Wood Slice Wreath
5. Frame Wreath

Turn tradition on it's head and make this rectangular wreath with a frame which is painted red and add ribbon and Christmas bulbs.
Instructions Frame Wreath


6. Wine Cork Christmas Wreath

Make this upcycled wreath using corks, a wreath form and some small baubles.
Instructions Make a Wine Cork Wreath
7. Christmas Deco Mesh Wreath

Red & green deco mesh combine the two most tradition colors of the season to create this beauty for your door.
8. Red & Green Deco Mesh Wreath

This stunning red wreath is finished with a beautiful red & green ribbon.
9. Mickey Mouse Vine Wreath

Disney fans will love this wreath. You'll need two smaller wreaths and a bigger one as well as embellishments to recreate this look.
Instructions Mickey Mouse Vine Wreath



10. Hot Chocolate Wreath

Hot chocolate goes hand in hand with Christmas, it's delicious and warming on a cold winter night. So make this adorable wreath to conjure up those cozy nights by the fire with soothing hot chocolate. You can purchase Foam marshmallows to add the trimmings on top.
Instructions Make a Hot Chocolate Wreath




11. Deco Mesh Grinch

For this project, you'll need some green deco mesh, a wreath form and a cute little Santa hat.
instructions Grinch Deco Mesh Wreath
12. Deco Mesh Tree

Make this one of a kind decoration for your door in time for Christmas. You can make it in any color combination you like to go with the colors you have chosen for your festive decorations.
Instructions Deco Mesh Tree
13. Nativity Scene

With just a few items you can make this amazing wreath. You'll need burlap, a mini nativity scene , a star and some firefly lights. It will look so impressive and welcoming on your door for the festive season.
instructions Manger Nativity Wreath
14. Baby Jesus Wreath

This small wreath has a handmade baby Jesus and lamb made from polymer clay.
15. Santa Claus

Santa Claus looks very pleased to be placed next beautiful red poinsettia on this wreath.
16. Felt Wreath

Felt is such a versatile fabric for crafting and you can make wonderful shapes and figures to ad to your wreath with felt.
17. Teal Mesh Cross Wreath

Channel ocean vibes by making this teal wreath which would also work very well for Easter too.
18. Elf Christmas Hat Wreath

Instructions Elf Hat Wreath

Beautiful buffalo plaid wreath

Christmas wreath inside a wreath.

Nice wreath for January and February