This post may contain affiliate links for products I recommend, as an Amazon Associate I earn from qualifying purchases. This does not change the price you would pay.
Awesome Halloween Costumes
Whether you want to dress like a character from an upcoming film or maybe something silly like an unflatable bird – we have some great picks for you to choose from for your Halloween costume this year.
Inflatable Costume Riding an Ostrich
1. For a fun look , you can't beat an Inflatable Costume Riding an Ostrich

Sample Review
"Hands down the best costume I've ever had! I got so many laughs in this thing. I will be wearing this again next year. It stayed inflated the entire night on one set of batteries. The hat was a little wrinkly and a little uncomfortable for me but totally made the ensemble." Corinne H
Purchase
Top Gun Costume
2. With the new movie due to be released, this Top Gun Costume is sure to be popular this year.

Sample Review
"This is an amazing costume! I was worried about the fit, no need. It fit perfectly (with Spanx) I'm 5'6, 160 lbs, 36D. It felt great with some stretch to the material. It is sexy while having your body parts covered and you can unzip the zipper however low you'd like." Heather
Purchase
Women's Ghostbusters Costume
3. With the new film Ghostbusters: Afterlife due (Nov. 11), this Women's Ghostbusters Costumewill definitely be on tend for Hallowneen

Sample Review
"I loved it! And so did everyone else! It fits as expected and was a great price, I'm very happy. The only negative I'd have to say about it is the straps for the backpack didn't make since. There were pieces missing. But I knotted some straps together and somehow made it work. I got this costume for super cheap, perhaps that's why. " Bethany
Purchase
Women's Cinders Rags Peasant Costume
4. Get your prince charming with this Women's Cinders Rags Peasant Costume

Sample Review
"Very happy with this Cinderella peasant dress. As a cosplayer I usually make my own costumes, so I'm very picky about details. But I needed something last minute that would look good if I got dirty. This was perfect. The fabric is a lovely 40% linen blend. " C Meade
Purchase
Women's Mad Hatter Costume
5. If you're late for a very important date – then this Women's Mad Hatter Costume should help get you to the party on time!

Sample Review
"I was on the fence about ordering this, I've not had much luck in the past with plus size Halloween costumes. I'm happy to say it fits absolutely perfectly. I purchased the 3X/4X, I'm 5'8 300lbs. I have very very large arms so I was afraid that I'd have to alter the sleeves in the very least but to my surprise they were super stretchy and accommodated them well. the skirt comes down just above the knees, I added a homemade tutu underneath for a bit more fullness. My favorite Halloween costume I've ever purchased!" Va Va Vieve
Purchase
Queen Cleopatra Costume
6. Command all the power in this Queen Cleopatra Costume

Sample Review
"This costume is of great quality. Everything felt secure and I liked that the dress was long enough that it didn't feel inappropriate. It was cold when we went outside so I wore leggings underneath it. I weigh 145 and I'm 5' 7". I ordered a large because of comments I read about the belt being too tight. I may have been able to get a medium but I went with the large and it was very flattering on. I would definitely reward this costume and it was great for more than just one Halloween." Nicole
Purchase
Wonder Woman T-Shirt with Cape
7. For a handy last minute idea – this Wonder Woman T-Shirt with Cape is ideal to team with a pair of jeans or leggings.

Sample Review
"I had a party to attend for my best friends 3 year old son. The theme was superhero's. so of course I decided to go as Wonder Woman! I have to say my little costume was a big hit. After reading all the reviews, I decided to play it safe and go with the extra large. but in reality, I really could of pulled of a medium. I ordered the DC Comics Wonder Woman Cuffs to finish off the look, and it all went together perfectly." Amazon Customer
Purchase
Harley Quinn Costume
8. For an awesome Cosplay Costume , thisHarley Quinn Costume really fits the bill.

Sample Review
"First I have to say I love the costume. I am 5'2″ tall, and by no means skinny, I weigh about 160, and 36DD a size medium fits perfectly. While other people say not to purchase this costume if you are overweight, I don't agree. I'm wearing spanx underneath the suit and feel totally confident. Now onto the product itself, the suit itself is perfect, the legs are a little long on me but that is to be expected. " Evayna
Purchase
Pineapple Costume
9. Feeling fruity? Then why not don an awesome Pineapple Costume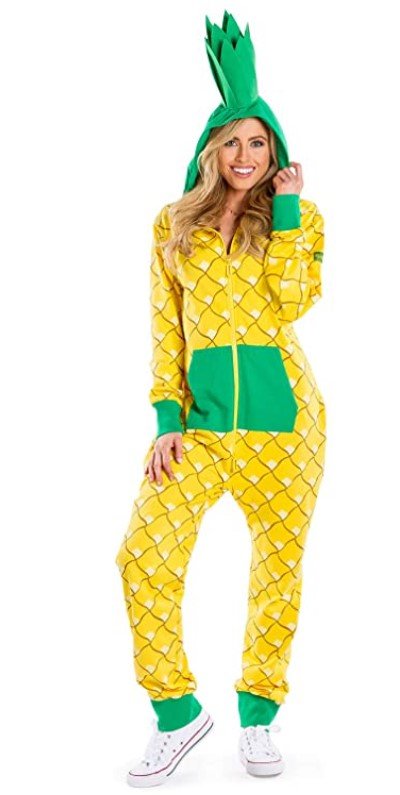 Sample Review
"I purchased two sets for my girlfriend and I for our Las Vegas trip this halloween, 1 male 1 female of the Tipsy Elves Pineapple costume, and I would say it's worth the price tag. They are very high quality, the zippers are heavy duty and zip-up and down with ease, the fabric material is thick as well to provide optimal insulation, but isn't overly thick to where you'd be dripping in sweat inside of a club or a bar. Overall excellent product!" Ajisai
Purchase
Princess Leia Costume
10. Let the force be with you with this Princess Leia Costume

Sample Review
"I read the reviews and almost didn't buy this. I did purchase this costume and was pleasantly surprised to find it fit great, was thick fabric, and if I bought a wig under cap for $3.00 the wig fit fine.
I never write reviews but felt this costume somehow received ratings that were not quite accurate. The belt was a bit flimsy, however, so I glued it to a white leather belt, added some jewels, and felt it added a professional touch. I added a pic so you could judge for yourself." Sue
Purchase
Oktoberfest Costume
11. Why not go for an Oktoberfest Costume

Sample Review
"Surprisingly well made for an inexpensive costume. I am 5ft 3in, 138 pounds, B cup. I ordered a medium and it fit perfectly. I would mention though, that if I gained even 2 pounds the top probably wouldn't fit anymore. The hubby definitely liked it ;-)" DF Holland
Purchase
Miss Krueger Costume
12. Be a nightmare with this Miss Krueger Costume

Sample Review
"This Freddy costume worked out great. My partner was afraid that it was going to be cheap looking in person, but we are pleasantly surprised at the quality. This costume comes with the hat, glove, and dress, though realistically it is more like a long shirt, so wearing shorts or legging with this will probably be a must. She also cut off the awkward fringing around the neck and bottom that came with the garment. We think this helped the overall aesthetic of the costume. Overall, great costume!" Brian C
Purchase
Product Name